Author: Louise Baltruschat Hollis
Fr: <Whimsical Wonderland Weddings>
Dress: Fluer from Infatuation collection
We're going all dark and dramatic this fine Sunday, courtesy of The Storyteller Celebrant who was behind the Snow White wedding inspiration concept, planning and styling and Joasis Photography who was the creator of the atmospheric images. What a feast for the eyes!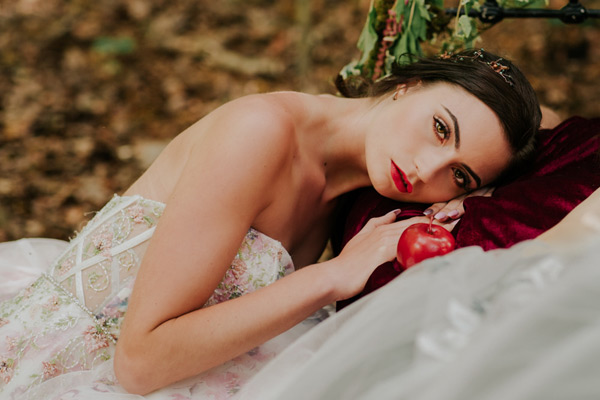 Here we have a bold deep red colour scheme featuring decadent flowers, whimsical calligraphy stationery, floral adorned cakes and a show stopping grazing table filled to the very brim with treats, all held at Patrick's Barn. The bridal looks are just incredible, with a black tulle gown and a contrasting pretty floral gown by BRIDE By Aster taking centre stage. There were also beautiful accessories, veils, shoes and flawless hair and make up looks. I really think these awe inspiring Snow White inspired images will leave you with so many fantastic ideas today.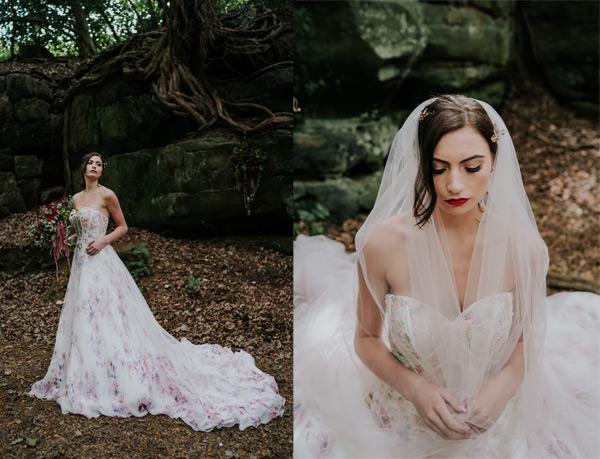 The concept was to bring innovative, creative ideas to the vision, with stunning dresses that capture the essence of a modern day fairy-tale. I had the idea of two sides to the story, a dark, and a light. At the end, they come together and feast.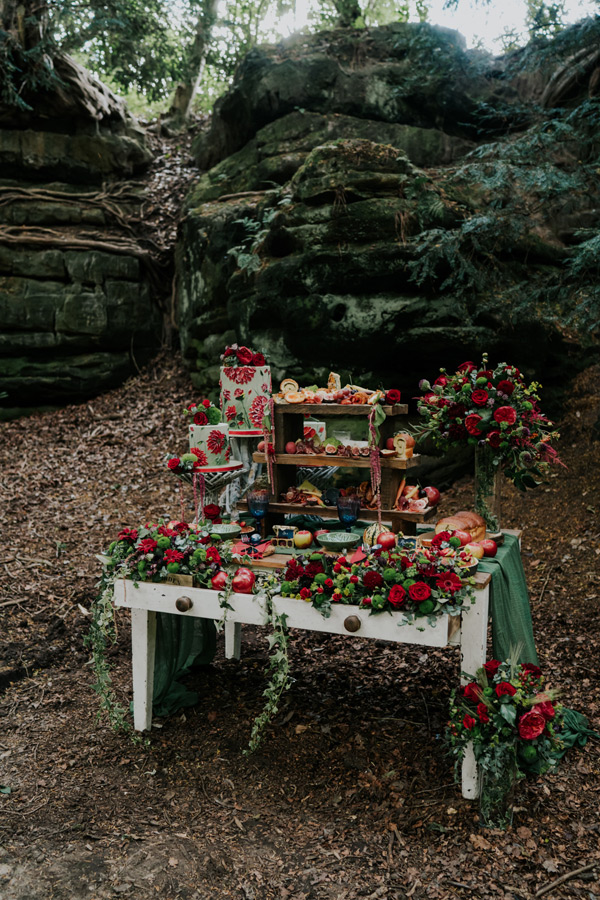 The original stories told, were very dark. Tales of jealousy and enchantment, but also told of love, friendship, kindness and forgiveness.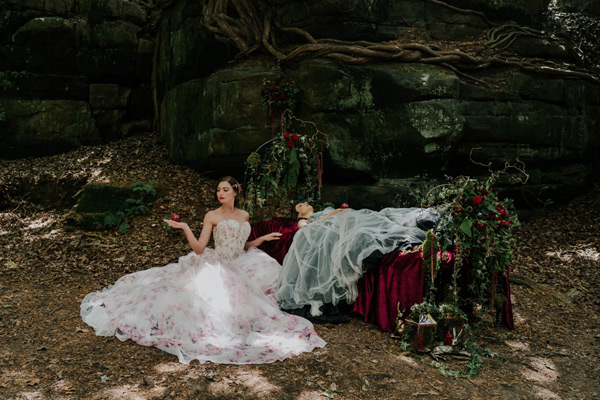 The stunning dresses are from BRIDE by Aster. When choosing dresses to fit the theme of the shoot, there was no competition. We needed dresses that were full of colour and totally unique. The dress is the oh-so-pretty and floral FLEUR by designer ANNY LIN.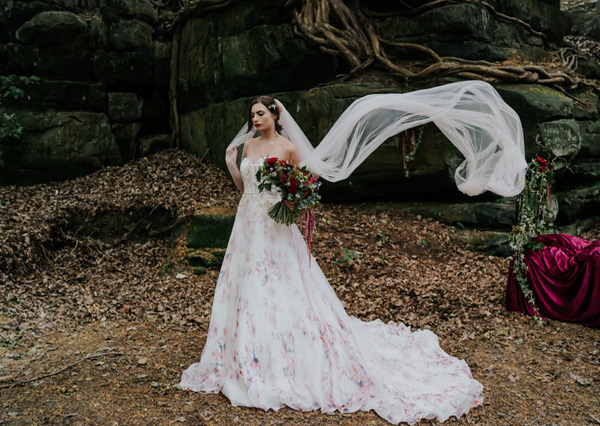 Wow! How beautiful. Thanks ever so much to the creative team above for sharing this Snow White wedding inspiration with us xo Lou
Photography: JOASIS PHOTOGRAPHY
Concept, Planning & Styling: THE STORYTELLER CELEBRANT
Venue: CHIDDINGLYE – PATRICK'S BARN
Catering: THE GARDEN CHEF
Cake: CAKEFLEUR
Floristry: FLEUR DU MONCEUX
Boutique: BRIDE BY ASTER
Hair & Makeup: SYLWIA KUNYSZ MAKE UP
Stationery: LORNA BOYER DESIGN
Hair Vine: RITZ AND SASS
Model One: Sheri Sadd & GEORGIAMAYMILLETT
Represented by Sandra Reynolds Agency & RMG MODELS
Shoes: CREATIONS BY MISS MOLLY